Tami Bader 

My name is Tami. I'm a nurse and a mom and a trail runner. Trail running connects some of my favorite things: being outside, running and a community of people who I love. I'm more of an adventure runner with my partners in crime, John and Jeremy, (as well as Girls' Club) than a racer myself, but I love working at races with my people, providing first aid, sampling the pickles and Nutella ( ) and marking courses with Ryan. I'm so excited to have made it official!
Ron Bondoc (Air Force Veteran)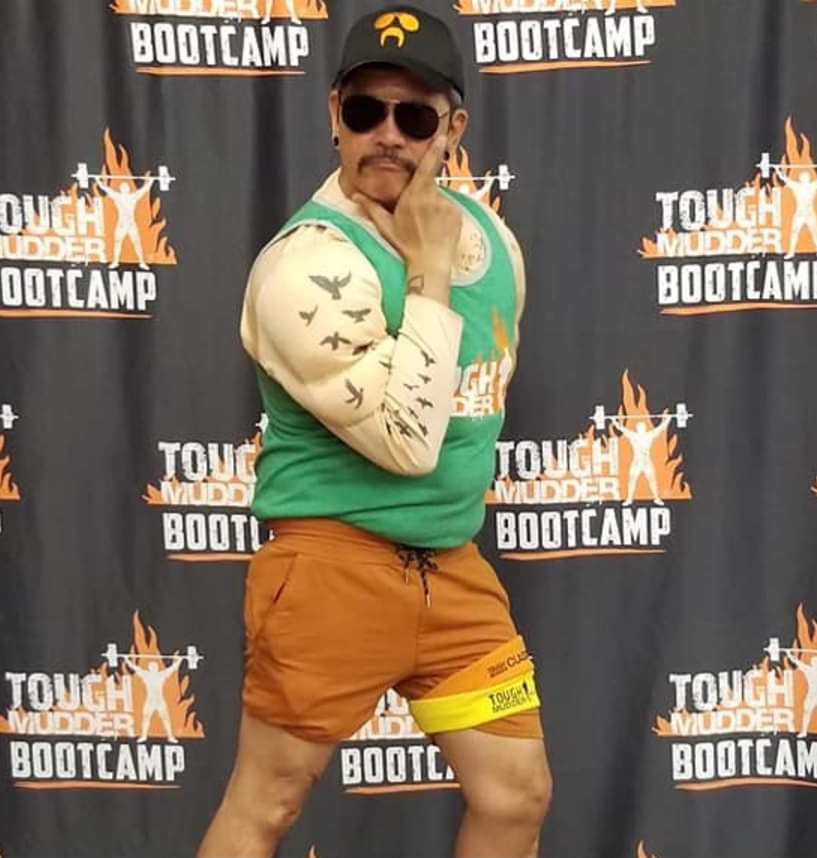 Retired USAF and proud father of 3. I'm an advocate for mental health awareness and suicide prevention through running and other outdoor activities. I volunteer my free time by joining organizations that promote these activities to military veterans like wounded warrior project, team red white and blue Las Vegas, etc..I'm also a dog lover and volunteers at local dog shelter.  I may not run fast but I always finish the race with a 😃 or in my onesies!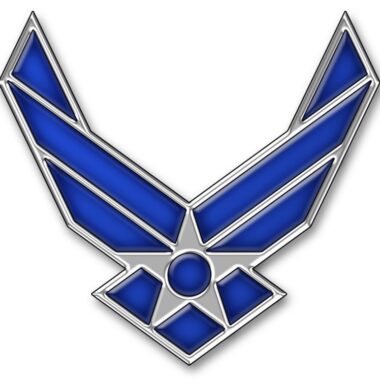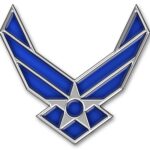 Chris Cushing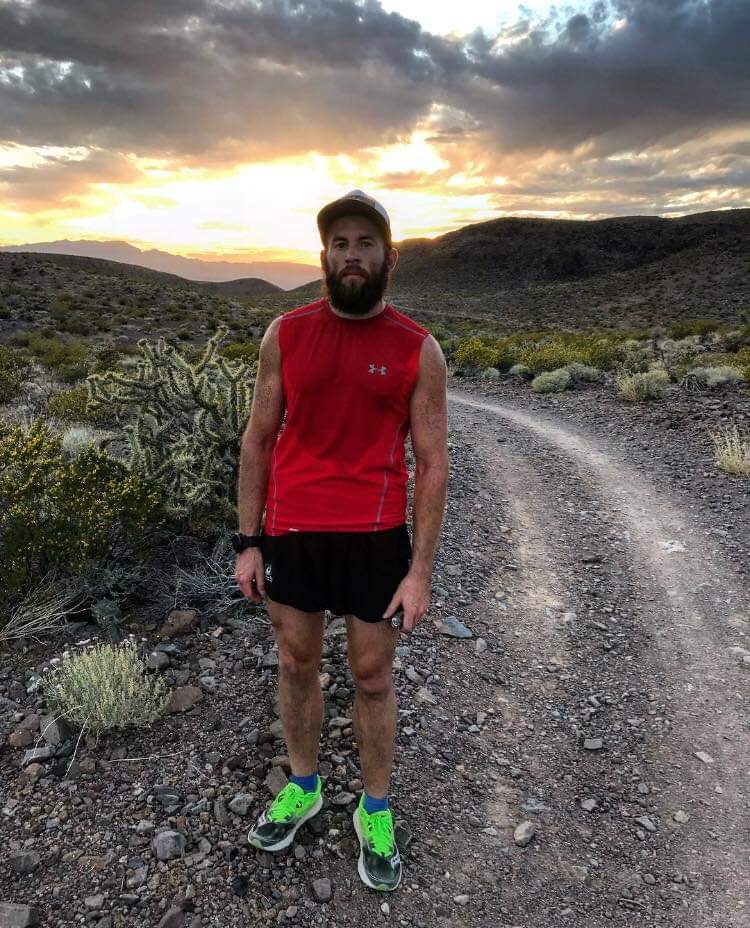 Bio coming soon!
Lee Huffington (Navy Veteran)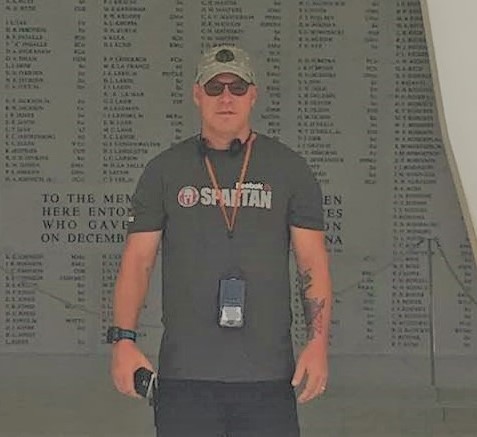 AKA, AARP Runner.  I am currently a member of the follow running groups; Rockin Runners, Desert Rats and Running Misfits.  My running career started when I was at a Boy Scout camp in the late seventies, we had an Olympic Games competition.  My scout master entered me to run the trail running event.  This was the first time I had run a long event, except when running from the police…not kidding.  Long story short, I won the event. When I got back from camp I reached out to our high school coach and signed up for the team. I am a four time letterman in both track and cross country at Basic High School in Henderson – of course. After high school I enlisted in the United States Navy where I was the leader of our company and would run the fat farm during boot camp. I continued to run for the next ten years, but then things fell apart when I got involved with crystal meth.  This drug put my running career on hold and ruined many aspects of my life.  I was able to recover from this addition but replaced it with another…food. By 2011 I reached a whopping 262 pounds and couldn't run a block. My buddy talked me into enrolling into Real Results weight loss program. During the next 90 days in was able to drop to 100.2 pounds. Over the last 7 years I have ran over 100 races, both road and trail, triathlon and mud runs.
I am the team captain for "The Huff" for the American Cancer Society – Relay for life. This is our fourth year participating, this all started with my mom getting diagnosed with cancer. The past year is has been tough; we have lost many family members to cancer to include my mom.  I am also involved with "No Hero in Heroin", I lost my younger brother  three years ago to this drug. It is truly amazing how bad the epidemic has taken over our town. I work for MGM Resorts International; I do my corporate social responsibilities by volunteering for Three Squares, Help of Southern Nevada and Toys for Children.
Over the last couple of years, a lot has change in my life!  First, I found my new love for running, it is all about the "Trail". Trail runners are different than other types of runners, they are all about being out there together – no individuals.  Most importantly, I found the love of my life, Shirley Huffington, of course on a trail run.  I must admit she is a faster at running than me, but I get the better view.
It is a great honor to be selected as a Triple Dare Running Company Ambassador for the second year and plan to serve you and the community well!
See you all soon on the trail.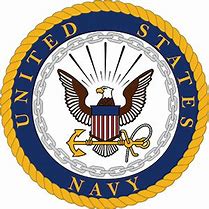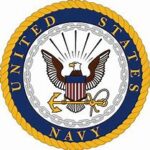 Meaghan Karanasios – 3 years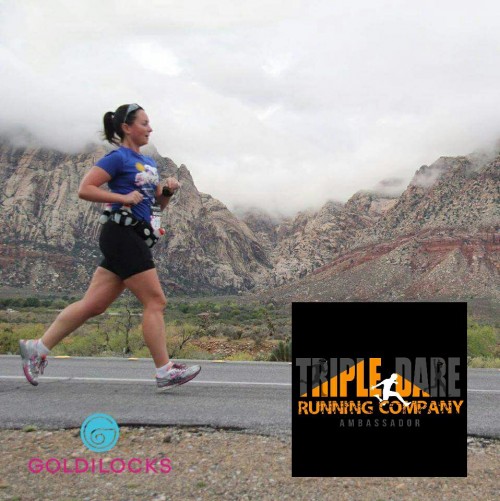 Meet Meaghan Karanasios!! If you want to get shiz done…put Meagan on it!! In addition to being a solid runner, Meagan is goal oriented, pays attention to detail, will encourage and talk to everyone…and is a pretty mean griller…yum! You don't need to look far for Meagan…You can hear this extremely social butterfly miles away! Welcome to the Triple Dare Family!! Here is what Meaghan has to say:
"I started running 8+ years ago. My dad has always been a runner and has encouraged me to join him on runs. It was not until my husband started running though, that I followed suit – if he ran I ran. It started with yearly Turkey Trots, followed by a 25K trail run followed by the Richmond Marathon and the rest is history.
I love running. It's a great way to explore new areas, take in scenery and reduce stress. It's also a great way to meet new people. When I moved to NV 3 years ago I searched for running groups and immediately started going to meetups. Its because of the running community here that I immediately felt at home and love living here. The running community has been so awesome, supportive and welcoming that it feels like home.
I love hearing about other people who are just starting to run and their success stories. I love sharing my joy with others which is why I wanted to become an ambassador. I want to share my love of trails with others. and I really believe in and love Triple Dare. I love how much time and energy they put into organizing their races to make sure they are the best and everyone has the best experiences with their races. I think the time they put into prepping shows they truly love what they're doing and care that people have fun. I'm looking forward to working with them and sharing their passion with others and helping them grow!"
Cheryl Kehrli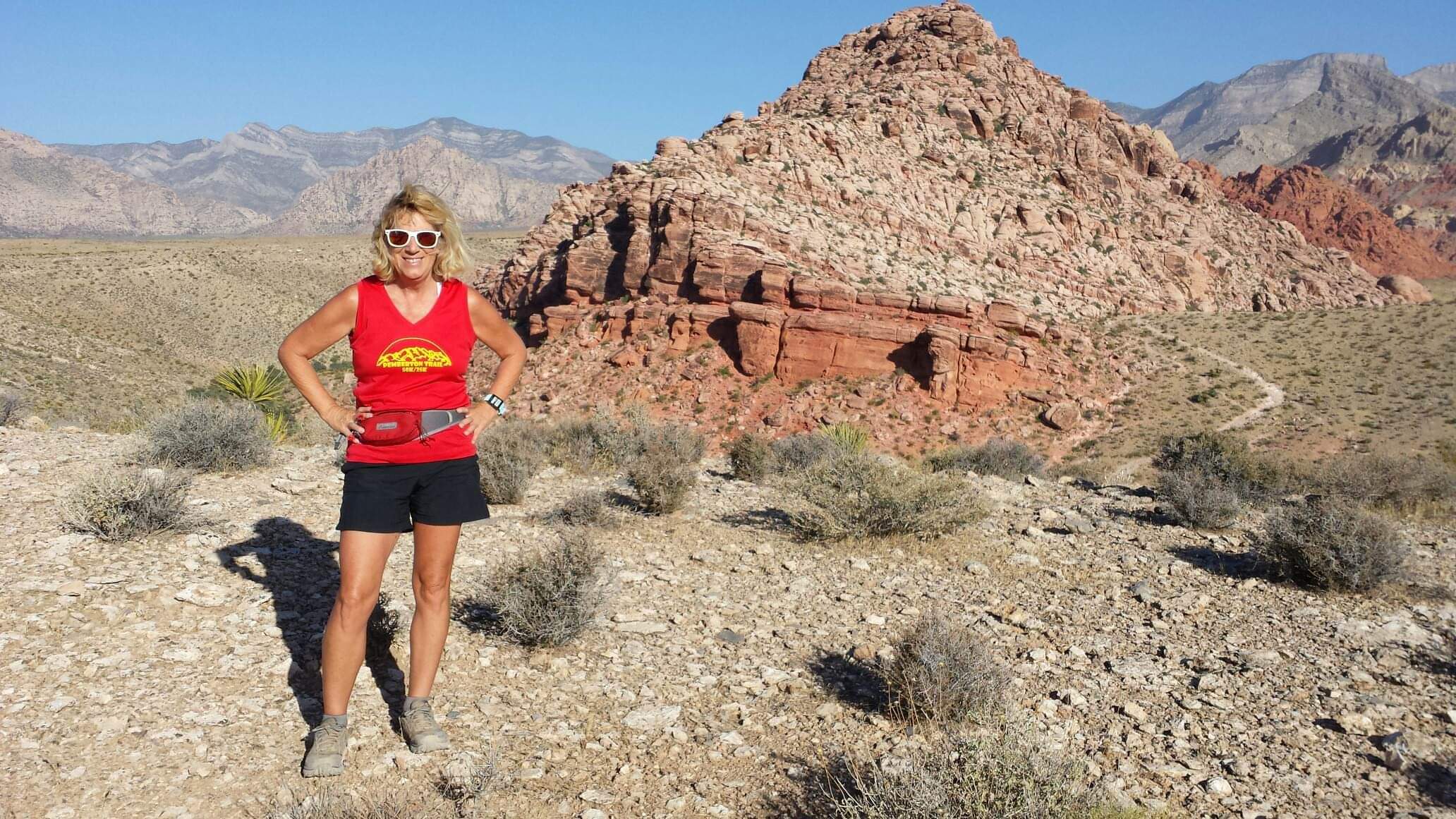 My name is Cheryl Kehrli.  I started trail running when my husband and I moved to Las Vegas from Portland, Oregon in 2014.  I instantly fell in love with the trails and have met the most wonderful and supportive people within our trail running community.   Thoroughly enjoy the group runs and races, they are so much FUN!
Becky Madsen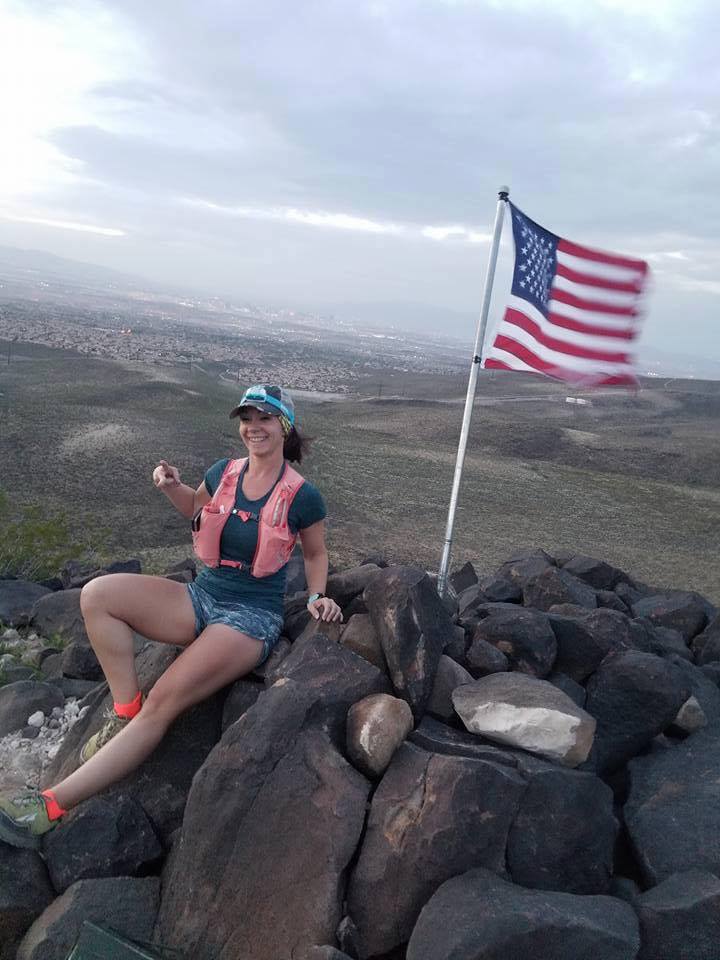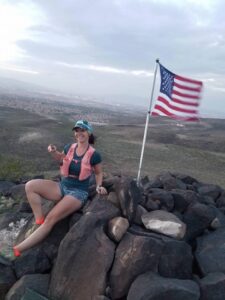 My name is Becky and this is my second year as a Triple Dare ambassador. It is also my second year as a trail runner in general. Last year was full of firsts – from my first trail half to first 50k and all distances in between, and lots of assorted adventures with my trail fam. I am excited to represent Triple Dare this year, and encourage people who may be new to this journey."
Jim Nail (Marine Veteran…OORAH!)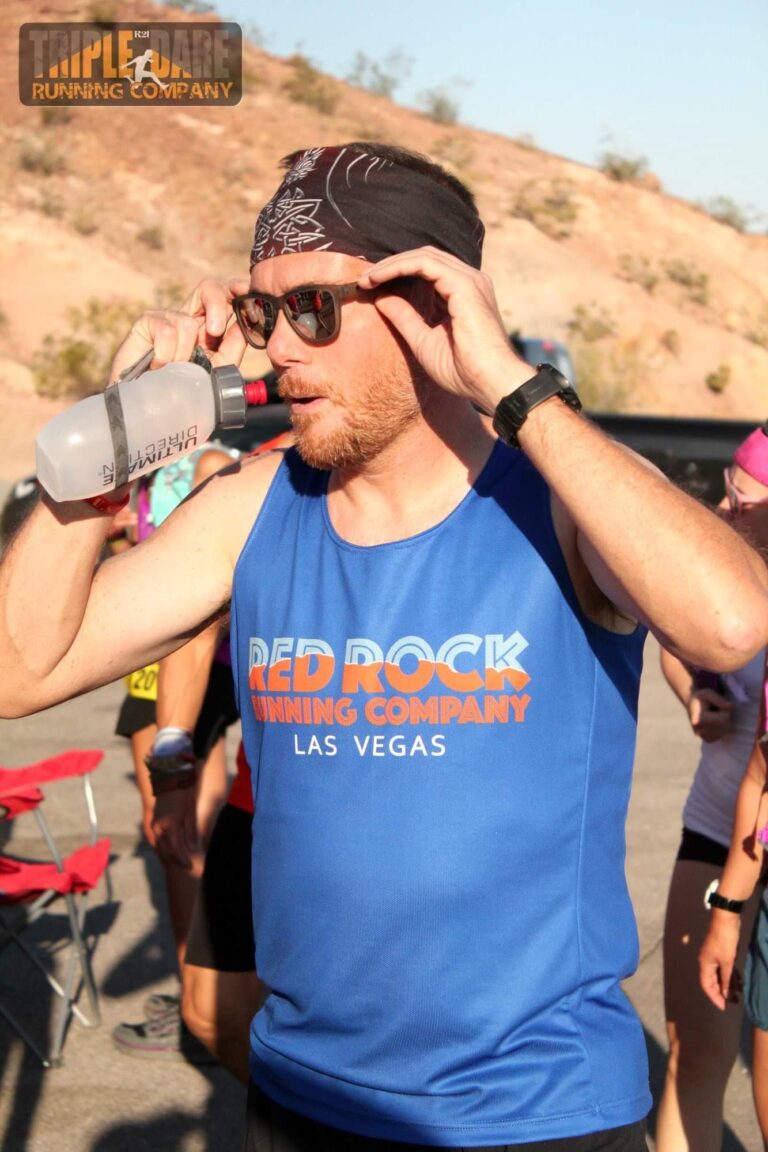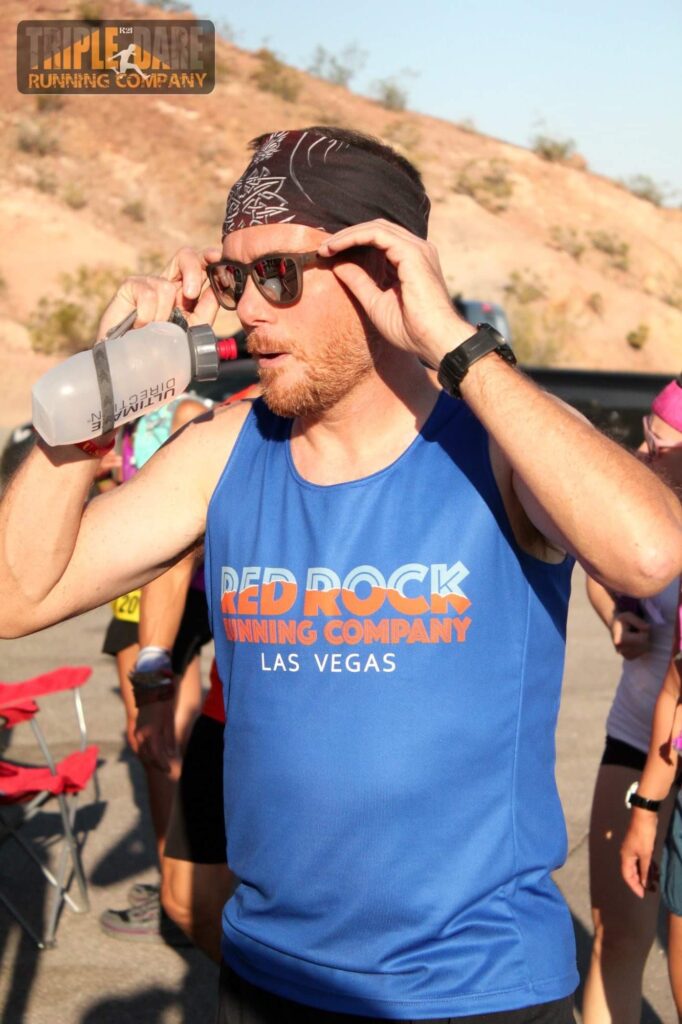 I am so excited to have been selected as a Triple Dare Ambassador. I began running myself only 6 years ago and quickly fell in love with dirt over pavement. I visited Vegas for the first time for a technology conference in 2017 and made a point of finding trails to run while I was in town. I enjoyed it so much that I jumped at the chance to move here when I was offered a job late last summer. I am loving the trails in the Vegas area, quite the change from the mud and roots I was used to back east in upstate NY. I'm currently training with Vegas trail friends for a series of ultra-distance races in 2020. I also participate in the occasional triathlon, having finished the first-inaugural Lake Placid 70.3 a couple years ago. (I am a sucker for any first inaugural race).  Recently I also dipped a toe into OCR finishing the Vegas Tough Mudder this year. Runners in general (and trail runners even more so) are some of the best people you will ever meet. Vegas trail runners take this to the next level. I am amazed at how friendly this community is and how new people are welcomed into the Vegas trail family. There is truly world-class talent here that is matched only by the humble nature of all to share and participate with those of any level. I look forward to giving back to the Vegas trail community now as a Triple Dare Ambassador
Darren Ramdhan
My name is Darren Ramdhan and I'm excited to be part of the Triple Dare team. My first Triple Dare race was the 2016 Flight of Fire Half Marathon. My father had recently passed away but always enjoyed looking out at Red Rock from his patio so I thought it'd be cathartic to run close to them. After the race I tried to get on a bus but Heidi Dove convinced me to stick around for awards as she told me that the bus wouldn't leave. The bus left. I got a great view from the award ceremonies. Thank you Heidi, I was used to leaving after races that I never really met the volunteers or racers who, like me, were pushing themselves to new limits and just enjoying life. My father never saw me run but he runs with me all the time. He'd be glad that I was with people who discovered his secret. Life is beautiful. I look forward to running with you.
Angelina Ramos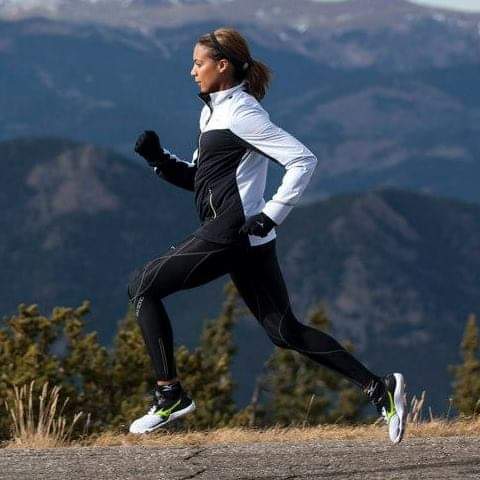 Angelina Ramos is the current University of Nevada, Las Vegas cross country and distance/middle distance track and field ncaa division one coach. She competed herself at the D1 level for Florida State University (800m/1500m/ cross country) before sharing her passion for the sport via coaching over 20 high school, collegiate, community or club running and/or triathlon programs across Colorado and Michigan for the past ten years.
Kelly Johanna Rappe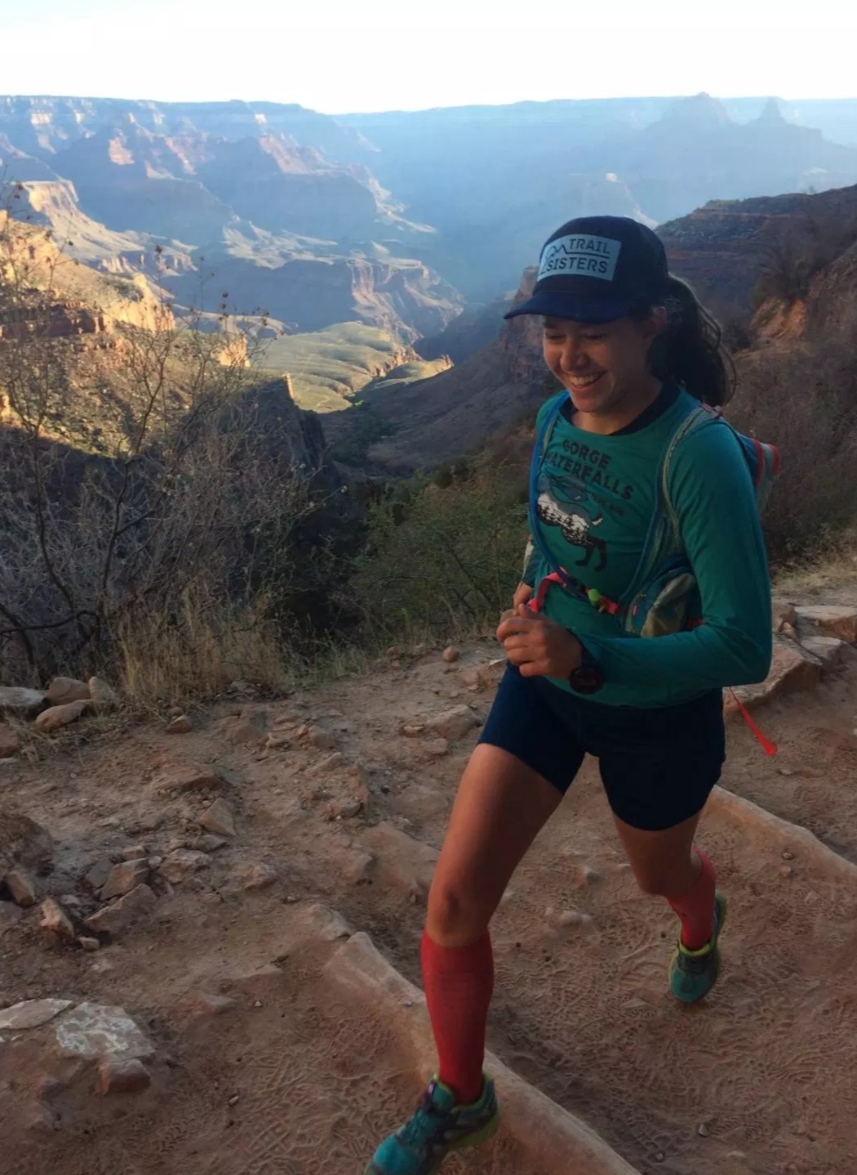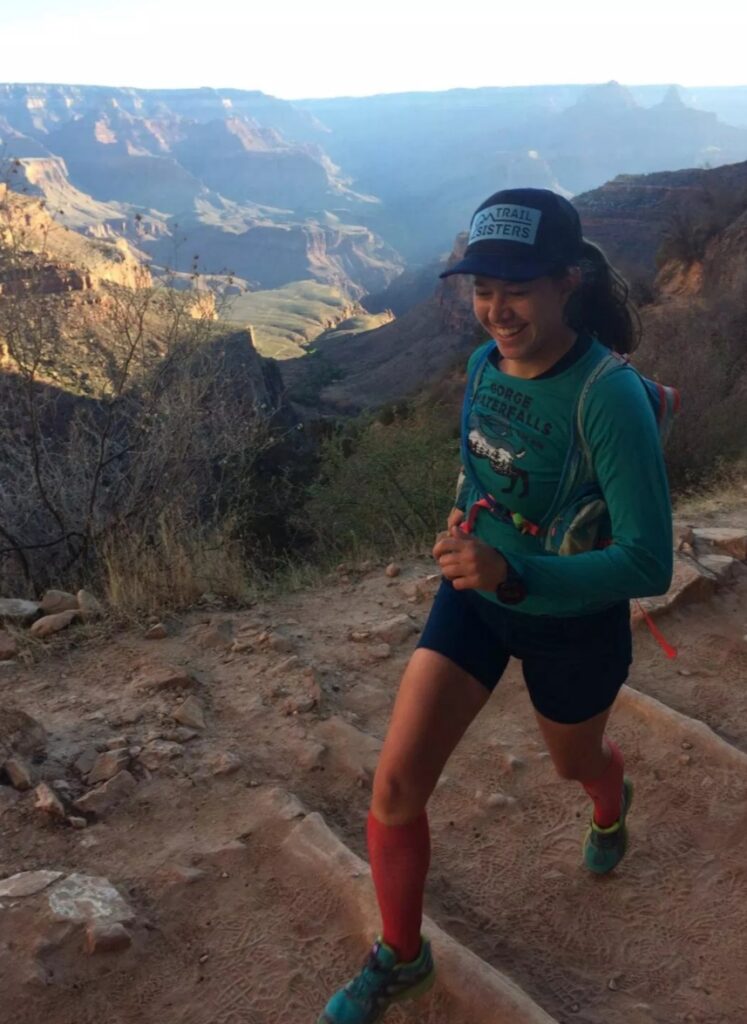 Hello Wonderful Triple Dare Running Community! My name is Kelly Rappe and I am addicted to trail running. I am really excited for this summer I have a 30km race in Washington, a 50km race in Copper, Colorado, and a 50km self supported race in Iceland. This fall I plan on attempting Rim to Rim to Rim in the Grand Canyon. When I am not out on the trails I am teaching, coaching, or gardening. I love being outside. Please follow my blog: https://trailrunnerkelly.wordpress.com/
Su Robertson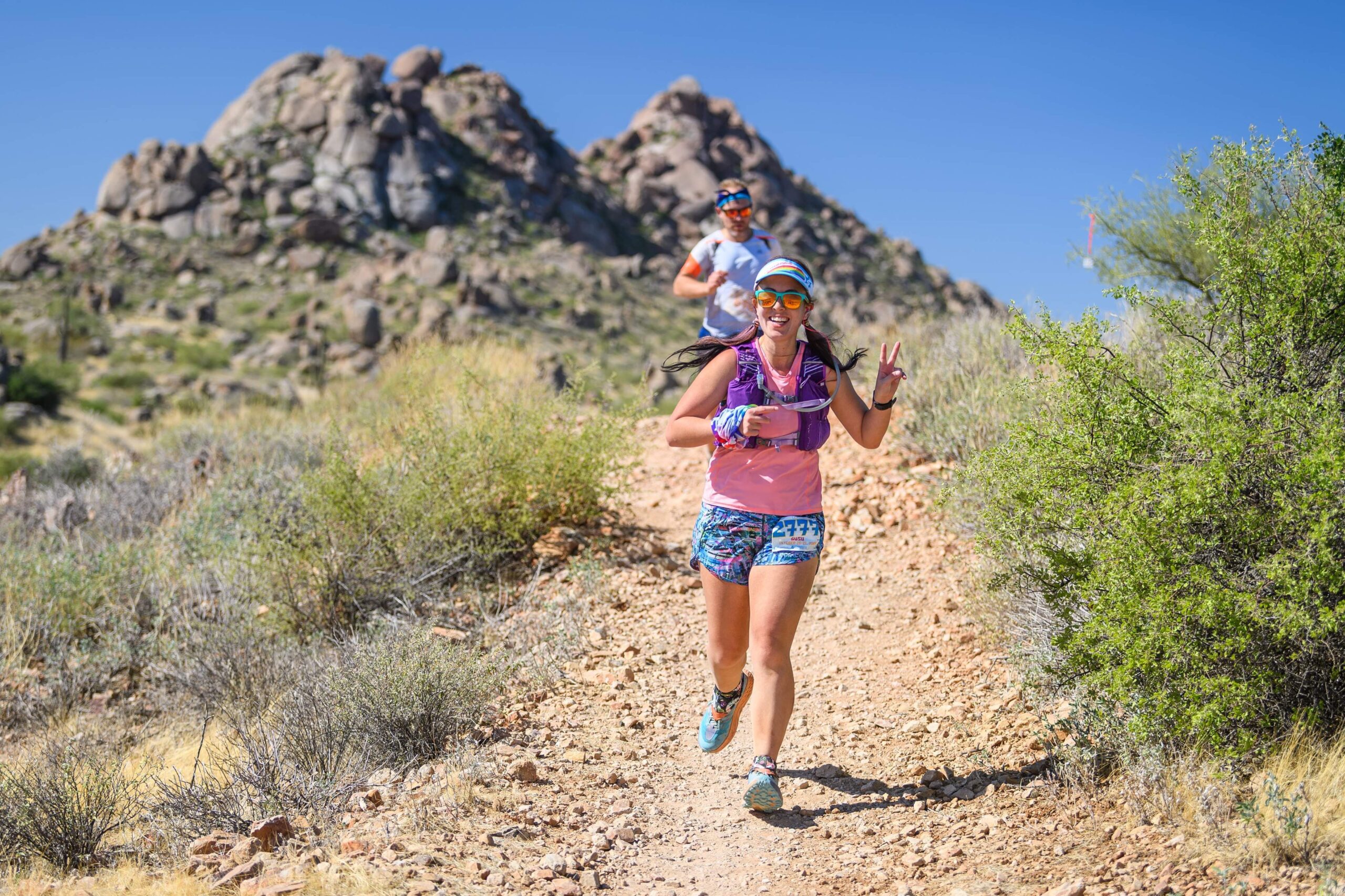 I originally hail from New Zealand and now live in Las Vegas, NV. Growing up I would always skip any PE classes (I took bowling as a PE elective!), so running had never been on my radar whatsoever. My friend then told me about this one race where you get a Tiffany necklace… so I entered the lottery with a few friends and… we got in! Instantly nervous about #allthehills in San Francisco I started actually decided to start training for the Nike Women's Half Marathon. I met some great people and we started a social running club that now meets for group runs on a weekly basis (check out @RUNishED). After completing what I found to be a challenging half, I completed my first marathon in 2016 and then my first ultra in 2017, and first 100 miler in 2018. I enjoy running distance, and just completed my 4th 100 mile race. I am so excited to be an ambassador for Triple Dare!
Luna Runner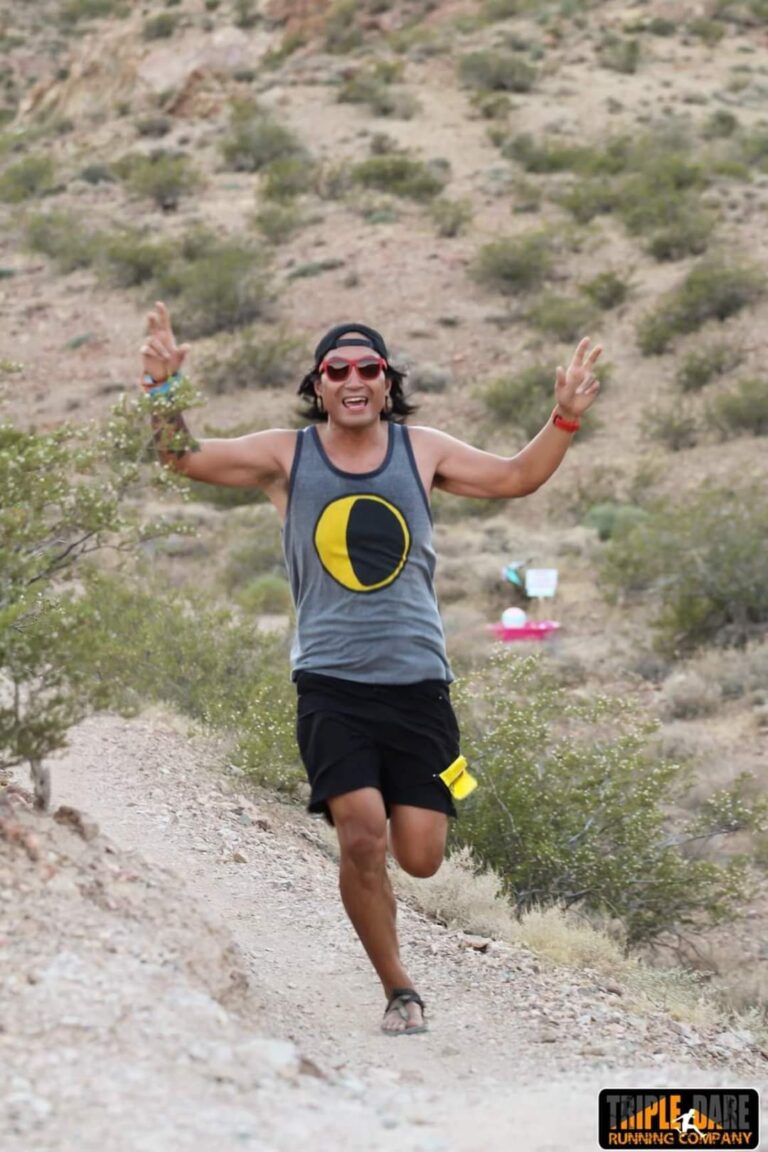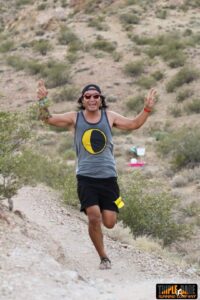 Luna is the welcoming party to the trail community, the perfect person to give you support on a tough run, and a true friend.  Most everyone knows Luna Runner because of his big smile and calming presence on the trails.  Another person who feels like he has been an ambassador for years, we are happy to make it official this year!My name is Robert but folks in our community call me "Dos"! I'm in love with the outdoors but trail running specifically gives me that natural high. Spreading good vibes and kindness is my forte.
Geoff Sage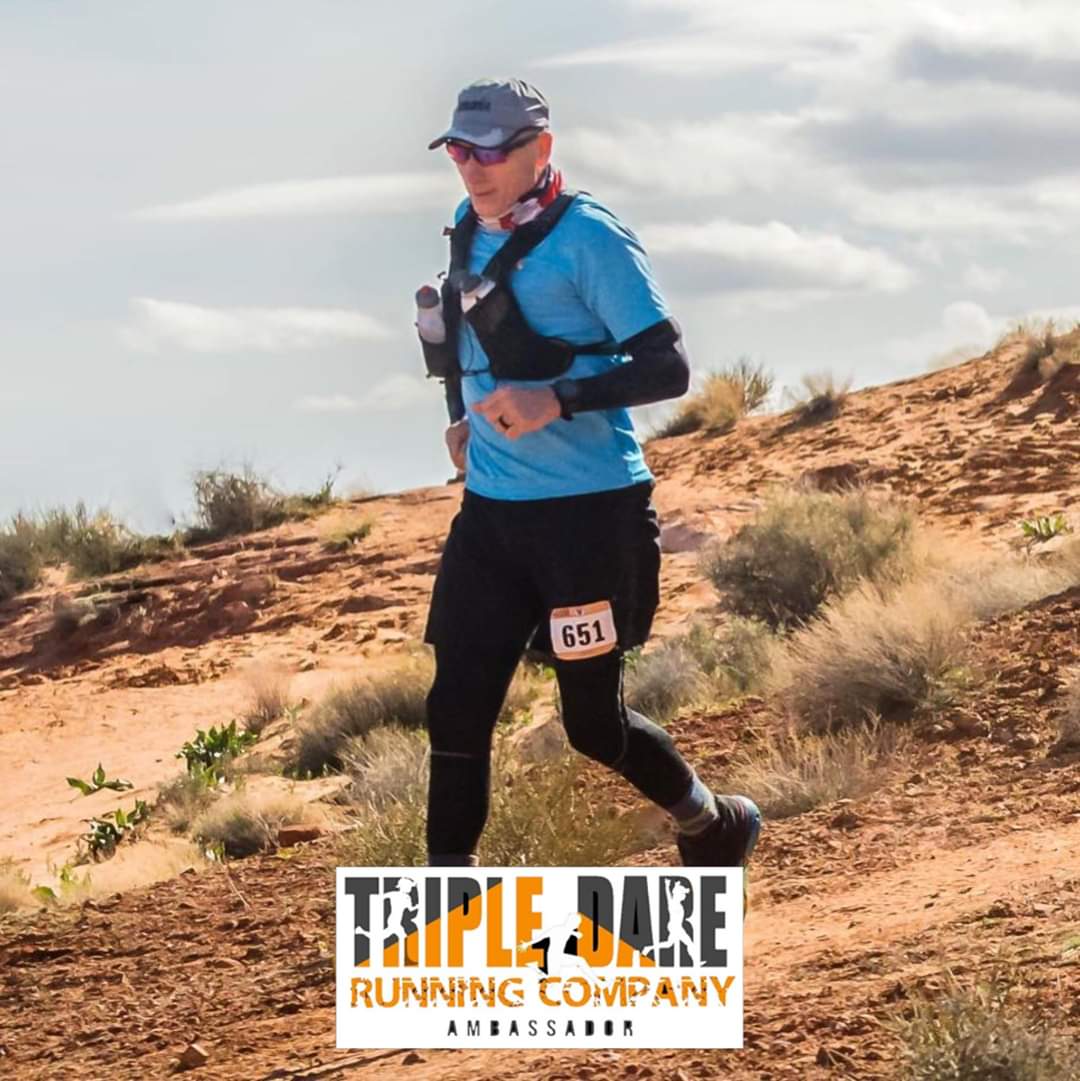 Jose 'Run Aficionado' Santos
I started running when I was 31, it started right after dealing with a heart break.  I guess you can say I needed to feel pain in order to find my passion. So I initially started walking 1 mile, then I slowly graduated to 3 miles.  Soon after I wanted more, and that's when I discovered running.  Who would have known that a 440 pound man would change his life and running forever.  As I got better, stronger and more confident, the pounds started to fly off. Total loss 165+.  I was ready to step up and continue chasing my dreams.  I slowly conquered each distance making sure to train, and never take anything for granted. I am happy to say that "If you can dream it, you can achieve it." In 2015, I said " one day I will be an Ultra Marathon Runner." On April 8, 2018, I completed my 1st 50 Miler, and became an Ultra Marathon Runner.  So believe me when I say, anything is possible. Just work hard, be disciplined, and stay consistent.  Run2impr
Jamie Schofield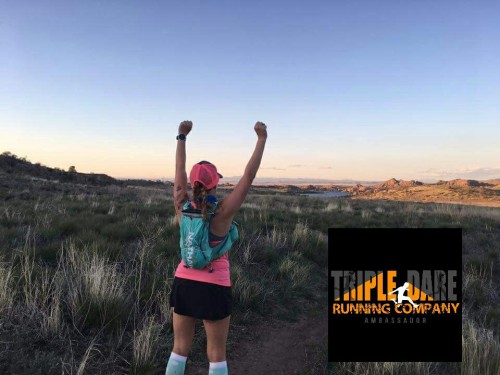 If you want to know where Jamie Schofield is during a run, just follow the trail of pasta!! Jamie's meticulous planning and fueling ideas make her a great example for other runners! She literally fuels during runs with baggies of cooked pasta in her pockets (genius!) You may, or may not, find this bubbly blonde, after a run, sitting with a beer in hand (maybe a huge plate of French fries) and her super-supportive husband and adorable kids in tow! Jamie is always organizing runs, helping lead runs, and inspiring us with her goals! Jamie, my dear, welcome to our Triple Dare Family! Here is what Jamie has to say:
"I started running when I was 3 because my parents were runners and I think it was just easier for them if I was a runner too. I ran competitively for many years before deciding that summer in Texas is awful and choir was air conditioned. Fast forward two decades and a friend asked me to do a half marathon. I initially said no, but then my daughter, who was a newborn at the time started crying, and I realized running got me out of the house away from babies.
One half marathon turned into six half marathons in a year, followed by four marathons, two 50ks, and one 56 mile race. Needless to say, LOTS of time away from babies. All jokes aside, I run because that is where I find my peace. I am a better wife, a better mom, a better boss and employee because I demand that time to balance myself. My biggest running accomplishment was finishing the Whiskey Basin 88k without killing my husband who so wonderfully paced me and crossing the finish line with my kids.
I have 100% found my passion in trail and ultra running. There is nothing better to me than being out on the trail and I am love sharing that passion with others. I am super excited to be a Triple Dare Ambassador to share this passion and encourage other runners! Triple Dare truly cares about their events and goes out of their way to create a phenomenal event. Next up I have the Tushars Marathon, a not yet picked Fall 50K , and then a spring 50 mile."
Brandy Singelton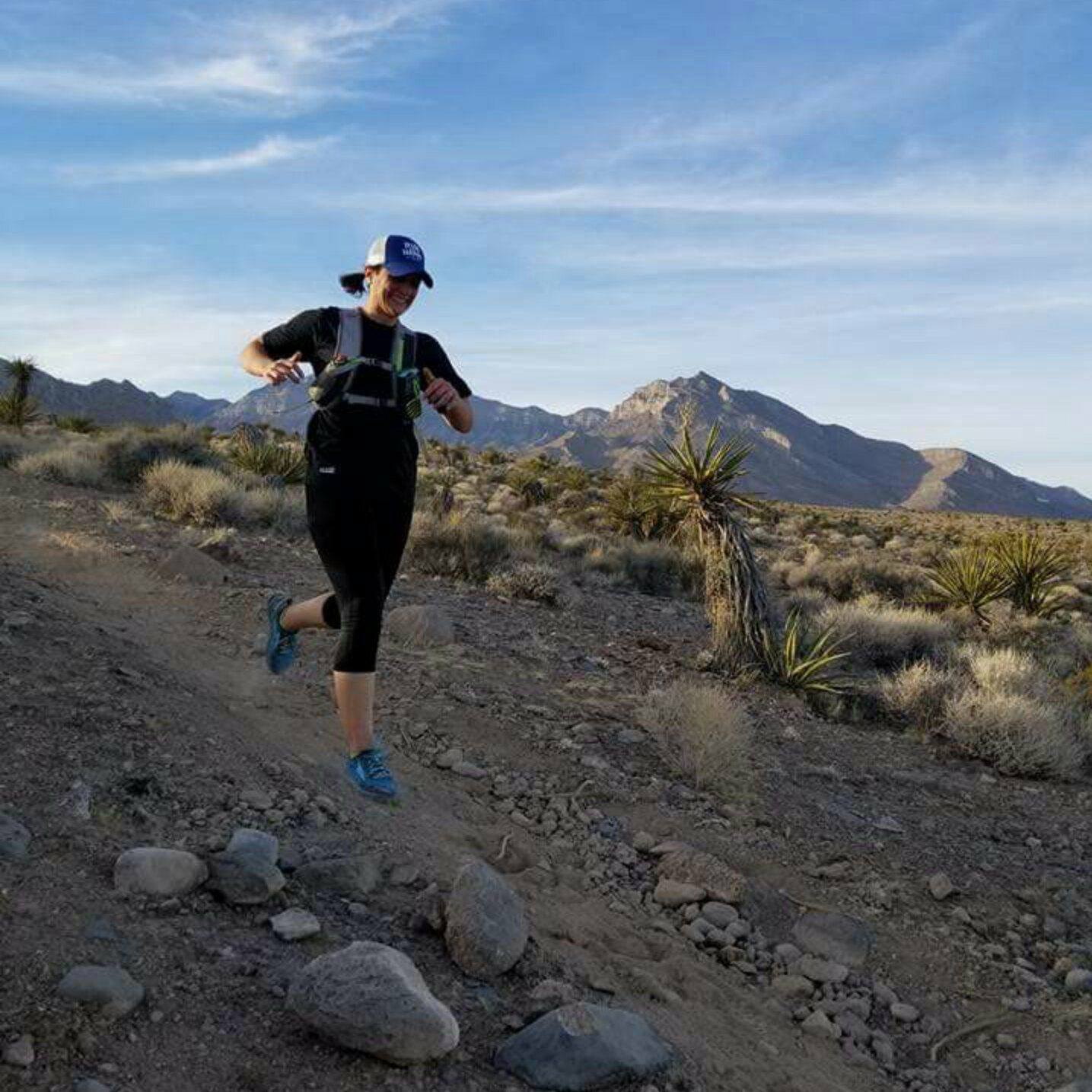 Hi Friends! My name is Brandy, I'm kind of a newbie to the running/trail community. I ran my first half last year at Rock and Roll Las Vegas, which was an amazing experience. I followed that up with my first 10k trail race and trail half, and most recently 10k at Trail Trashed. Let's just say, I'm hooked! As a busy mother, wife, and nursing student I find peace, balance, and energy from my runs and the fabulous people I'm surrounded by. I am honored to be an ambassador for Triple Dare Running Company. Next up for me is Night of Fire Half Marathon, which is currently my favorite distance. I have thoughts of tackling my first 30k or even a 50k, we'll have to see what this year brings!
John Sterling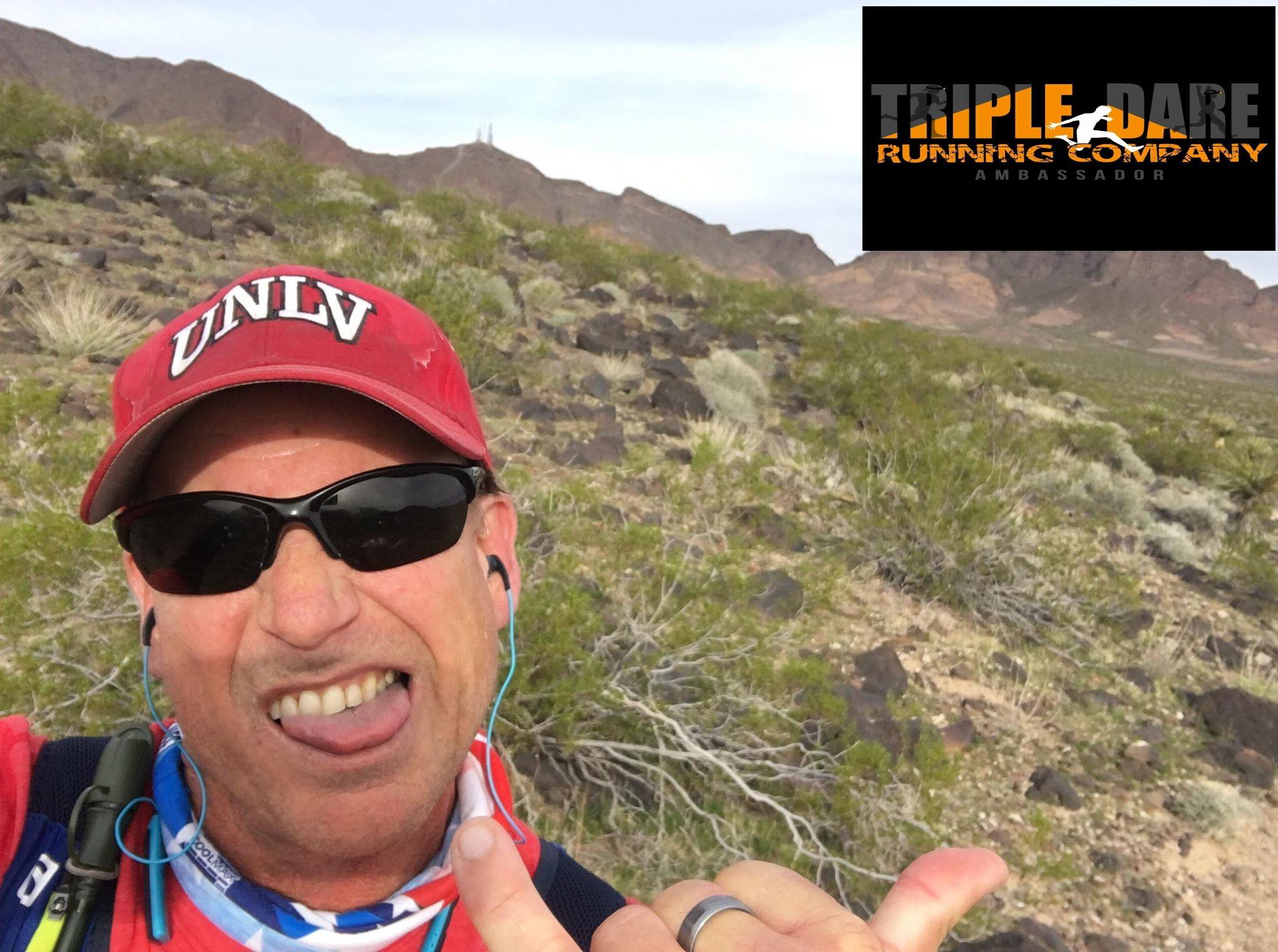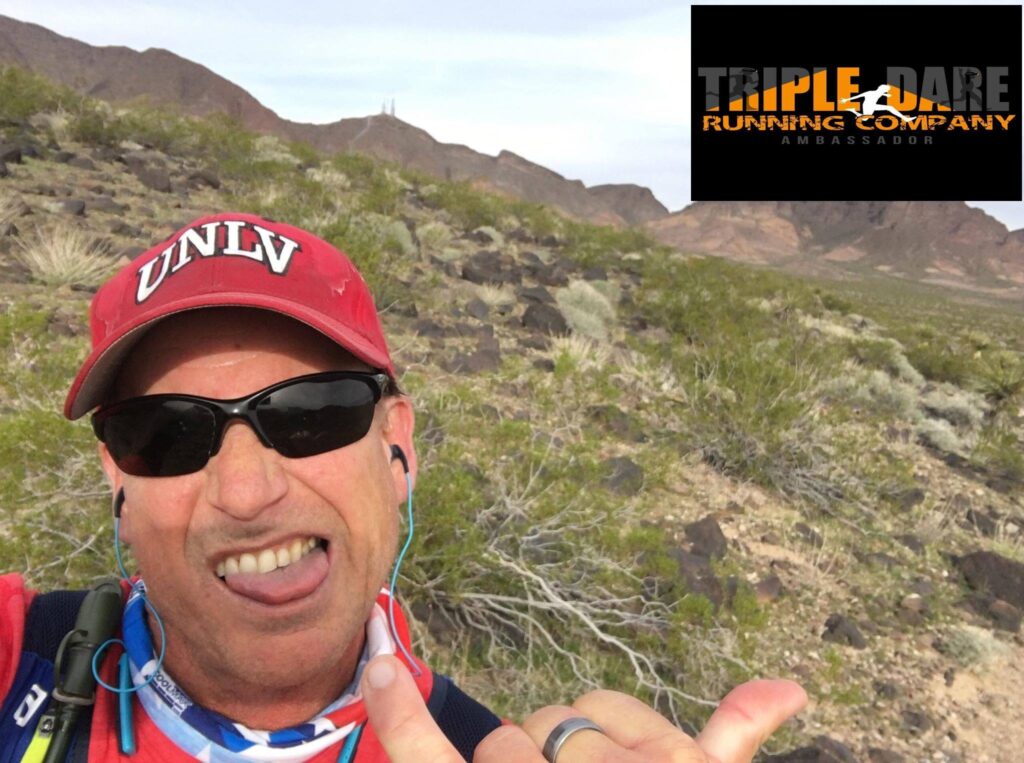 After moving to Vegas last year, I wanted to check out a trail race. I'd read about them but I'd never been to one. So I signed up to volunteer at Triple Dare's Dam Ruck n Run. As I sat there all night and the next day watching these lunatics abuse themselves, I thought, "these people are insane." It also felt like I'd found a new home. The whole Triple Dare family was so welcoming. Did I mention the donuts? I've been addicted to trails (and donuts) ever since. Through running I recently found a new passion. Last October I read an article about a blind runner who ran the NYC Marathon with a sighted guide. He talked about how running changed his life. He described the experiences we all share, from setting and achieving goals, to the emotional rollercoaster we're all familiar with. As I was reading it, I realized that his journey sounded exactly like mine. With one difference. In order to run, he needed a friend to run with him. There were no local organizations providing guides, so we started a local chapter of Achilles International. Triple Dare supported us from the beginning, and continues to sponsor our guides and athletes. This is gonna be a great year with lots of new adventures. Now go do something epic!
Rebecca Thomas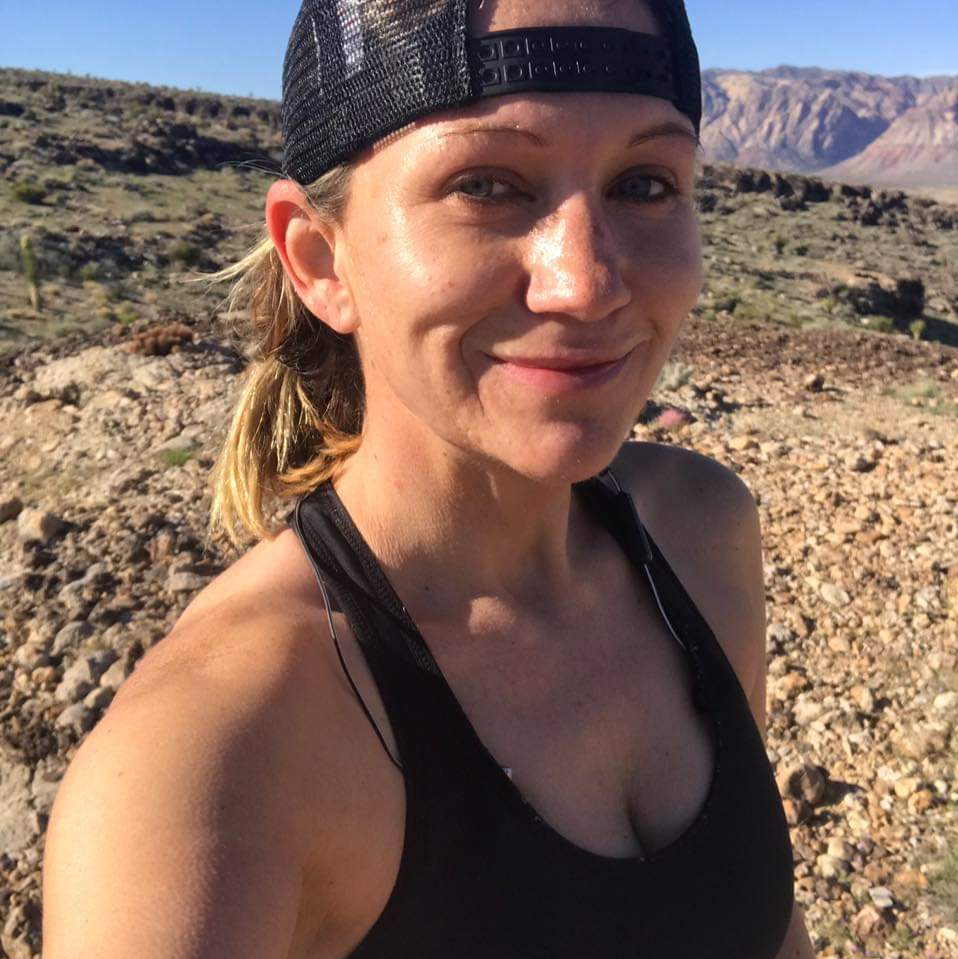 I'm a proud Las Vegas native.  I've been a runner my whole life but it's wasn't until I started trail running a few years ago that I found my best self and a second family.  I've completed a few trail ultras and my ultimate goal is to get into and run Western States.  I lead a weekly group run out in Red Rock every Monday and I love getting new people to join us.  When I'm not running I lead the Cybersecurity program at West Career and Technical Academy.  I am also a proud single mom to 10 year old twin boys.  I have the best times at Triple Dare Races and I'm humbled and proud to represent such an awesome company.  Hope to see you at a race or group run!
Josh Tomsheck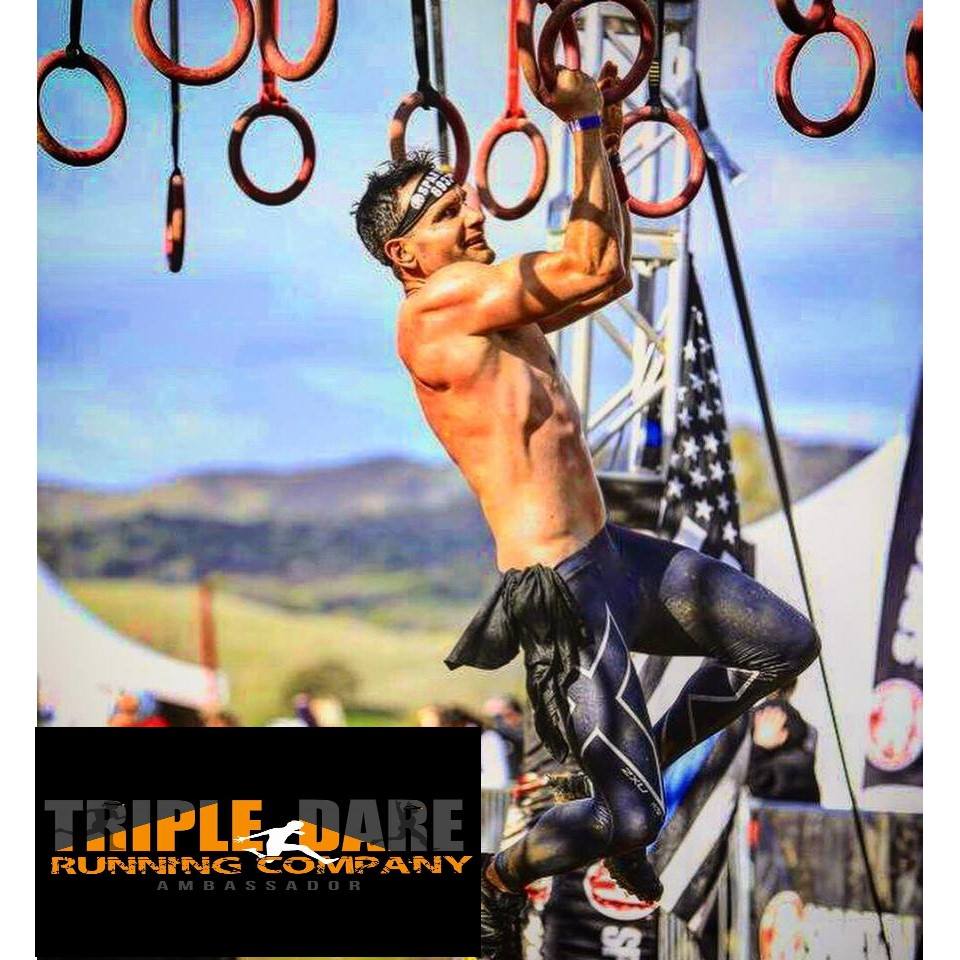 I am returning for a second year as a Triple Dare Running Company Ambassador and couldn't be happier. I am a lover of all things trail running. Originally from Illinois, I have been living in Las Vegas since 2004. I am happily married to a Vegas native and we are the parents to three young children. I discovered trail running as a way to get outside, stay healthy, make friends and compete in various athletic pursuits. When I am not out in Red Rock chasing hilltops I spend my time being the best father and husband I can be, working (or as I refer to it "fighting for justice") as a board certified criminal trial attorney at my law firm Hofland & Tomsheck, spending as much time as possible with my wonderful friends, playing with our family pets Winston (Australian Labradoodle) & Pistachio (desert tortoise), coaching my sons baseball and basketball teams, spending as much time as I can with my two beautiful daughters, cheering on my beloved Chicago Cubs, and fiercely competing in Spartan and obstacle course races throughout the United States (and beyond). This year I plan to run in as many Triple Dare events as I possibly can, and qualify for the World Championship in Spartan Racing, where I am currently ranked 8th in the US National Series. In trail running, as in life, I am constantly working towards "progress, not perfection" and trying to become "better every day." I am beyond grateful for all I have in this amazing life and can't wait to spend another year with my Triple Dare Family!
Katherine Wammack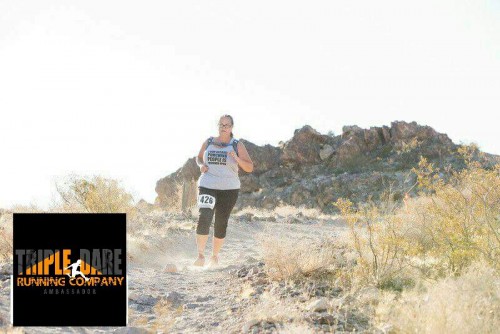 Katherine Wammack is another ambassador that has been with us since the very beginning!! She is the type of person that would do anything for anybody on a moment's notice!! She is selfless, hard-working, dedicated, and FUN!! We love her "no-filter" and "no-nonsense" personality!! Kathy, we have always called you our sister, but we are honored to make it official!! Welcome to our crazy family!! Here is what Kathy has to say:
"Two and half years ago, I was in a funk, worst shape of my life. I started walking when my son would run, and finally decided I would try. While I'm still a walk/jogger/power hiker, I'm loving my life. 75 pounds lighter and have added an amazing family and many friends in its place. I am forever grateful that Aubrey sought me out to help volunteer at Silverman then again at their very first race. And now I'm hooked! I look forward to watching this company grow, and being there with them as they do! I can't wait to see what the future holds!"
Kirsten Taylor York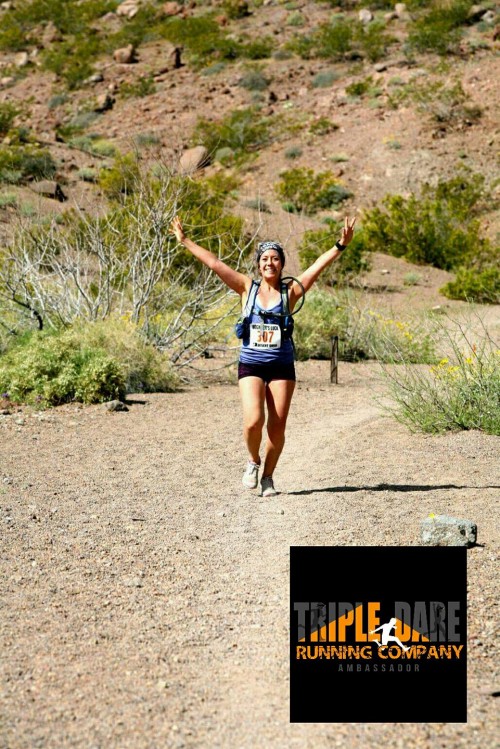 Words can not express my deep gratitude for being a Triple Dare Ambassador. From the moment I met Heidi and the gang, they welcomed me with open arms. I have such a profound respect for all that Triple Dare does for the whole Vegas community. What an honor!
I started running in fall of 2015 with a dear friend. We would get up early and consistently run a couple miles almost every day. After doing that for a year, another amazing friend invited me to start training for my first half…3 and 1/2 weeks away! Even though the half was on road, we trained mostly on trails. It was hard and I was very slow, but I kept going.
Running for me is a never ending masterpiece of strength, courage, determination and love. After overcoming many self inflicted stuggles, I am at awe with what we are able to do when we put our mind to it. There may be huge hills and tough trails ahead of us, but if we keep putting one foot in front of the other we will always be able to overcome any obstacle in our path. I love this community and the incredible relationships I have built. I can't wait to be able to serve as a Triple Dare Ambassador!
Come join my journey!