January 1, 2022 - Revolution Run (Road)
Start your new year with a run! Revolution Run is a road race that will take place on New Year's Day — January 1, 2022 at Kellogg-Zaher Park, Las Vegas, NV
December 31 - Resolution Run (Road)
End the year with a run! Resolution Run is a road race that will take place on New Years' Eve — December 31, 2021 at the Kellogg-Zaher Park, Las Vegas, NV
March 2022 - Trail Trashed (UTMB Qualifier)
TRASH those trail legs on many of these trails that will be raced on for the first time with us! Saturday – March 2022 in Bitter Springs, Nevada
A fun, yet challenging event on beautiful groomed trails — perfect for beginners. It's our annual Recycled Run — Deja Vu at Mountain's Edge Park on May 2022.
June 5, 2021 - Sawmill Relay (UTMB Qualifier)
Run a solo or relay race in gorgeous Lee Canyon, Mt. Charleston on June 2022.
July 2021 - Three Degrees of Hell
It will be a HELL of a good time!! Come run three races and earn up to four medals in July 2021.
November 14-15 - Valley of Fire Backcountry (UTMB Qualifier)
Silver State Showdown is our newest race with 3 events, 3 State Parks in Lincoln County Nevada, 2 distances, and one amazing weekend! Register now for an amazing time on September 10-11, 2021.
November 14-15 - Valley of Fire Backcountry (UTMB Qualifier)
Valley of Fire Backcountry is a UTMB qualifier race that will take place on November 13th & 14th, 2021 in Logandale Trails, Logandale, NV.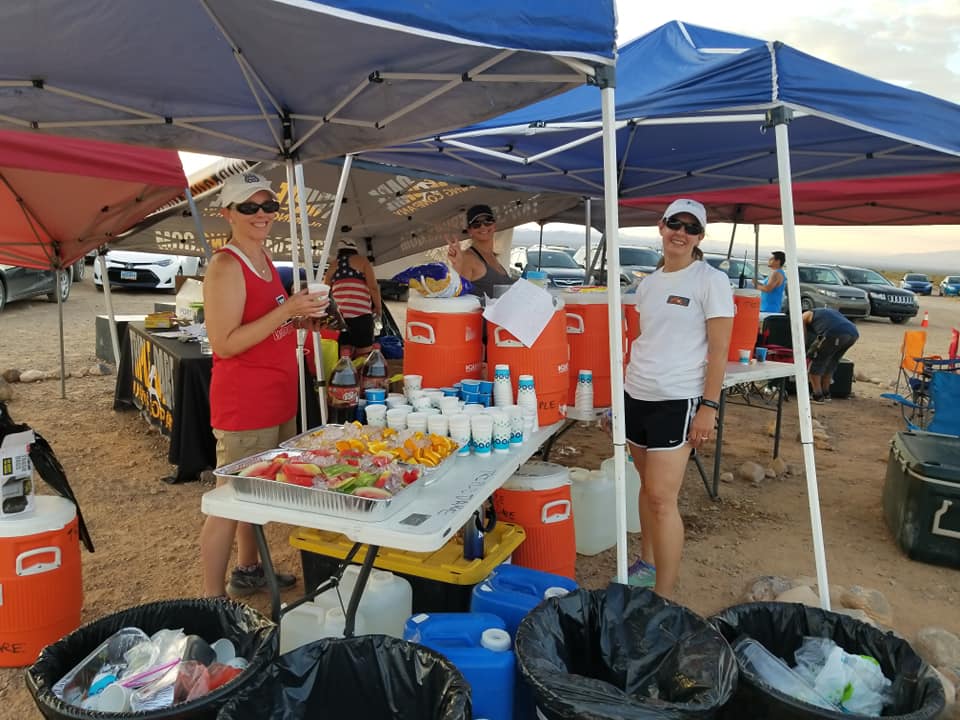 Volunteer and earn race credit!
Want to experience the behind the scenes of a race, help your fellow runner, and have fun while earning credit for a future race? Join the ranks of our volunteers!
Valley of Fire | November 2021
Enjoy a stunning course in the Mojave Desert's color country. Run the backcountry trails of Valley of Fire State Park and get up close and personal with sandstone formations in this autumn desert oasis. Register now.
⭐⭐⭐⭐⭐
awesome group of people. their races are fun and challenging.
they also have a military discount which is awesome and very much appreciated.
Christopher C.
⭐⭐⭐⭐⭐
Great people, amazing courses and inclusive after parties!
Tami B.
⭐⭐⭐⭐⭐
Heidi and her team put in the work to make these events special and it shows. I've done several Triple Dare events and I always have an awesome time. Everything including the support, organization, energy, awards, volunteers, food – are all top notch. I consistently leave their events looking forward to the next!
Andrew C.
⭐⭐⭐⭐⭐
Awesome races, well put together and well organized. The race directors are amazing and definitely care about out the Las Vegas running community. We are lucky to have them here!!
Shelly L.
⭐⭐⭐⭐⭐
Triple dare is absolutely amazing! They are like a family! I wouldn't want to run with any other company out there!
Kelly R.
⭐⭐⭐⭐⭐
An incredible community of wonderful people who make really fun events for people of all skill levels. Great people bringing together great people.
Cory D.
⭐⭐⭐⭐⭐
They put on some fun and challenging races.
Ronald M.
⭐⭐⭐⭐⭐
Triple Dare is awesome! Great people, well organized and so much fun.
John S.
⭐⭐⭐⭐⭐
If you don't have a fun time at a Triple Dare Race, there's no hope for you. Well organized and well run races by amazing people in amazing locations.
Doug N.
⭐⭐⭐⭐⭐
Excellent racing experience.Well marked course and great RD and volunteers. Thumbs up!
Ron H.
⭐⭐⭐⭐⭐
Amazing race company! The race directors put all of their heart and soul into each race and it shows!
Troy K.
⭐⭐⭐⭐⭐
Absolutely amazing company! They care about us. They make sure we are all very well taken care of. The events are fun and well thought thru.
Lots of aid stations with the greatest volunteers, fun medals and awards. Tons of food and a variety of drinks to surely satisfy the pickiest tooth.
Involved in the community, giving back to veterans…I mean… I just can go on and on about what of a marvelous company TD is.
Just try one of their events if you hadn't and you will see for yourself
Natalia M.
⭐⭐⭐⭐⭐
Super excellent people who always take care of their athletes!! Fabulous
Andy K.
⭐⭐⭐⭐⭐
As someone that has now raced and volunteered for their events I can confirm what others have said. Triple Dare Running Rocks! They put on challenging and extremely fun events. They treat their participants like royalty, and truly go out of their way to provide a fun and unique race atmosphere. The Las Vegas area is lucky to have them, and I look forward to competing and participating in more of their events!
Kevin W.