Race Details
Fire Fest Ultra
November 5 – November 6, 2022
Logandale, Nevada
*We are currently trying to get approval to add some amazing new trails!!*
Come join us for a weekend Trail Fest!  Outdoor movies, food, music, karaoke!  Run, camp, and join the fun!  If you are running a longer distance, you will have lots of crazy spectators to keep you energized and going as you loop through the start/finish line.
Stunning course in the Mojave Desert's color country! Run the backcountry trails of Valley of Fire State Park and get up close and personal with sandstone formations in this autumn desert oasis!
This is a race you will NEVER forget! There are over 45,000 acres of amazing, beautiful trails and stunning gorgeous rock formations. You will see petroglyphs that were left hundreds of years ago by inhabitants of the area. You'll have a chance to see the night sky if you get out there early and especially if you camp! You will have the option of choosing a 100M, 100K, 50M, 50k, Marathon, Half, 10k, or 5k!. Races are on Sat or Sun. If you decide to run both days, message us for the 2nd day discount!! **Note, the 100 miler, 100K,  & 50 miler are only on Saturday.
Wildlife, Plant Life, And Some History
The desert may look a little barren at first take, but there are bighorn sheep, desert tortoise, Black-tailed jackrabbit, skunk, antelope, coyote, bobcat, ect.. There are also many species of lizards and snakes that live in this desert oasis. Keep a lookout also for the various plant life. There are Yucca plants, Creosote, Desert Paintbriss, Prickly Pear cactus and ect..
Absolutely stunning so bring your camera!
Also, just in the canyons is 'Mouse's Tank'. It was named after an alleged Southern Paiute Indian renegade named 'Little Mouse' who hid out there in the 1890's. He was accused of gunning down two prospectors and many other crimes. Mouse was never found but they believe they found his watering hole, 'Mouse's Tank'.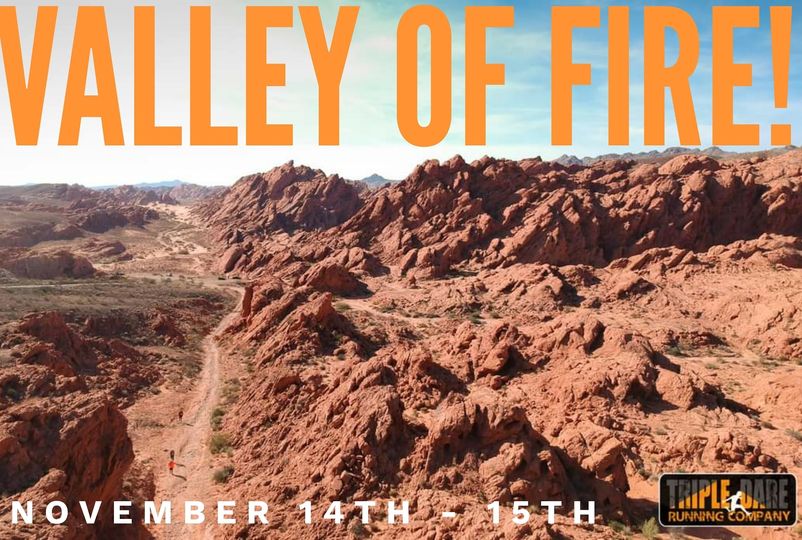 Register Today
You must register by Saturday 10/25/2022 in order to be guaranteed a shirt and your requested size!
Race Day Registration: Cash or check.
Triple Dare Running Company always supports our military and veterans. Email us for deep discounts!
Please arrive to the staging area 30-45 minutes early.
Distances, Start Times, Cut-Offs
| Distance | Start Time | Cut-Off Time |
| --- | --- | --- |
| 100 mi (Saturday only) | 4:00 AM | 35 hours |
| 100 km (Saturday only) | 4:00 AM | 35 hours |
| 50 mi (Saturday only) | 5:00 AM | 25 hours |
| 50 km | 5:00 AM | 25 hours |
| Marathon (26.2 mi) | 7:00 AM | 10 - 15 hours |
| Half-Marathon (13.1 mi) | 7:30 AM | 15 hours |
| 10 km | 8:00 AM | 15 hours |
| 5 km | 8:30 AM | 15 hours |
PLEASE ARRIVE TO THE STAGING AREA 30-45 MINUTES EARLY
We will have plenty of hammer/heed, water, GU, salty snacks, food, and fruits for you. First aid will be at every aid station. (see maps for details). We always have food, drinks, and snacks at the finish line. We want to meet you individually. We will be running around but please stop us and say "Hi". For our ultrarunners, you will be fed hot food.
**Ultrarunners, if you have any food requests, please email Heidi at [email protected]
Directions
One hour north of Las Vegas (61 miles)
1- From the I-15, take hwy 169 toward Logandale/Overton.
2- Turn right on Liston Rd (right after small post office).
3- Follow road to the right and cross the railroad track.
4- Follow the road to the Logandale Trail System.
5- Staging area/Start line will be on your right. Can't miss it!
Parking
There will be overflow parking over a half mile before the main staging area on the left. If you are running the 10k or 5k, more than likely you will be directed here. We will not have a shuttle this year due to the pandemic, so please arrive early.
Valley of Fire State Park is now charging $10 a car for parking per day. Please bring cash with you on race day or pay at the packet pick-up.
There will be a podium finish. When three deep male/female come in from a certain distance, we will announce the winners. The plaques are always hand made that you will cherish and want to sleep with every night.
All finishers will receive an awesome hand made medal that you will wear in honor.
Camping
We LOVE camping! Make sure you get to Logandale Trail System early enough on Friday the 13th to find a spot before the locals do. There are no RV hookups available. If you can't find a spot, crash with us at the staging area. (unfortunately we won't be doing a whole lot of sleeping and we may be a little loud).
RED ROCK RESORT
Template: TRIPLEDARE (use if calling in your reservation)
Call In #: 866-767-7773
Web Code: CATRIPLE (type in "Offer Code" box using the Web Link) must be in all CAPS
Web Link: Red Rock Resort
GREEN VALLEY RANCH
Template: TRIPLEDARE (use if calling in your reservation)
Call In #: 866-782-9487
Web Code: CATRIPLE (type in "Offer Code" box using the Web Link) must be in all CAPS
Web Link: Green Valley Ranch
SUNSET STATION
Web Code: CATRIPLE (type in "Offer Code" box using the Web Link) must be in all CAPS
Web Link: Sunset Station
Volunteers are an essential element of any race, but especially for trail races. We have some of the best volunteers and we are always looking for some more.
Adopt the pace of nature. Her secret is patience.
– Ralph Waldo Emerson
With every popular trail race distance (and a sprinkling of road!), Triple Dare is proud to offer several events throughout the year to keep you race ready!
Check out all our Events here.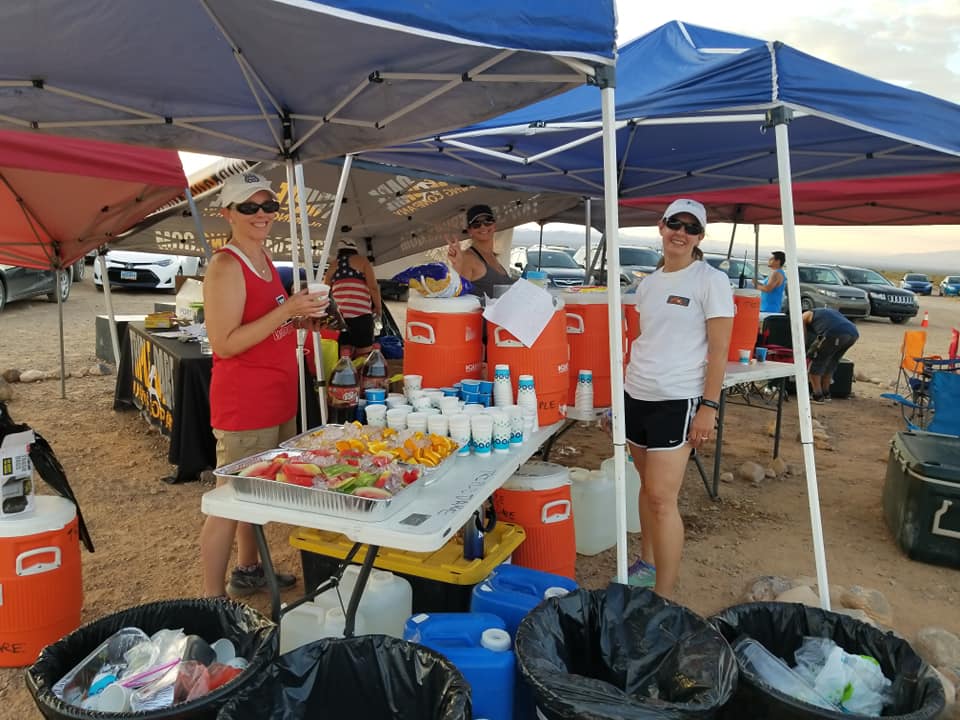 Volunteer and earn race credit!
Want to experience the behind the scenes of a race, help your fellow runner, and have fun while earning credit for a future race? Join the ranks of our volunteers!
⭐⭐⭐⭐⭐
awesome group of people. their races are fun and challenging.
they also have a military discount which is awesome and very much appreciated.
Christopher C.
⭐⭐⭐⭐⭐
Great people, amazing courses and inclusive after parties!
Tami B.
⭐⭐⭐⭐⭐
Heidi and her team put in the work to make these events special and it shows. I've done several Triple Dare events and I always have an awesome time. Everything including the support, organization, energy, awards, volunteers, food – are all top notch. I consistently leave their events looking forward to the next!
Andrew C.
⭐⭐⭐⭐⭐
Awesome races, well put together and well organized. The race directors are amazing and definitely care about out the Las Vegas running community. We are lucky to have them here!!
Shelly L.
⭐⭐⭐⭐⭐
Triple dare is absolutely amazing! They are like a family! I wouldn't want to run with any other company out there!
Kelly R.
⭐⭐⭐⭐⭐
An incredible community of wonderful people who make really fun events for people of all skill levels. Great people bringing together great people.
Cory D.
⭐⭐⭐⭐⭐
They put on some fun and challenging races.
Ronald M.
⭐⭐⭐⭐⭐
Triple Dare is awesome! Great people, well organized and so much fun.
John S.
⭐⭐⭐⭐⭐
If you don't have a fun time at a Triple Dare Race, there's no hope for you. Well organized and well run races by amazing people in amazing locations.
Doug N.
⭐⭐⭐⭐⭐
Excellent racing experience.Well marked course and great RD and volunteers. Thumbs up!
Ron H.
⭐⭐⭐⭐⭐
Amazing race company! The race directors put all of their heart and soul into each race and it shows!
Troy K.
⭐⭐⭐⭐⭐
Absolutely amazing company! They care about us. They make sure we are all very well taken care of. The events are fun and well thought thru.
Lots of aid stations with the greatest volunteers, fun medals and awards. Tons of food and a variety of drinks to surely satisfy the pickiest tooth.
Involved in the community, giving back to veterans…I mean… I just can go on and on about what of a marvelous company TD is.
Just try one of their events if you hadn't and you will see for yourself
Natalia M.
⭐⭐⭐⭐⭐
Super excellent people who always take care of their athletes!! Fabulous
Andy K.
⭐⭐⭐⭐⭐
As someone that has now raced and volunteered for their events I can confirm what others have said. Triple Dare Running Rocks! They put on challenging and extremely fun events. They treat their participants like royalty, and truly go out of their way to provide a fun and unique race atmosphere. The Las Vegas area is lucky to have them, and I look forward to competing and participating in more of their events!
Kevin W.